I haven't had much to blog about lately. I've been knitting a ton and not doing much sewing. My focus has been mostly gifts, too, and I don't want to share too much since curious little eyes might see. I did sew some adorable little doll clothes this weekend. Can't wait to show them off when they are finished up. I don't think my 5 nieces (ages 0-3) read my blog...
This week, the kids are home from school but Hubs is still at work. I'm so excited that we are going to my husband's parents' house for Thanksgiving, so I don't have to worry about preparing for that dinner this year. :-)
I have been doing some selfish knitting lately, and that sparked the "need" for some selfish sewing in my near future. I started the
Professoressa Cardigan
from the
Textured Stitches
book.**
My yarn is a 100% alpaca in a dark green color from my Local Yarn Shop. It is perfect for the drapey style of this design. I spent a lot of the past weekend working on this cardigan, and have averaged knitting a ball a day since Thursday. This pace cannot be sustained, but with a few days away around Thanksgiving, I do hope to have this finished in about a week. The warmth of the cardigan and the deep green color make me thing of Christmas, of course, and now I really want a plaid dress to wear with the sweater for Christmas! I've been looking around for a good pattern, and I have a few inspirations.
This dress
is by Micahel Kors. I like the A-line skirt with the pleat and the simple shape of the bodice. I want sleeves, though.
This one
definitely has the Christmas vibe. I don't think I'll go SO red and green. I'm thinking more tan and green. I LOVE how the circle skirt looks in the plaid, though.
This last
one has the same circle skirt effect but also has some little sleeves.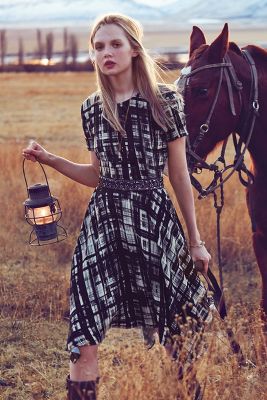 So definitely a fitted bodice with fuller skirt - probably circle but maybe A-line. I have some dress patterns with this shape bodice and sleeves. I can easily franken-pattern a skirt onto that. I just need to find the perfect fabric pretty soon!
** BTW, when looking for a picture of the cardigan, I found a site that has basically scanned the whole book in. You can buy the book from them, but um, why would you? How is that not totally illegal. I'm sure the answer is that it is totally illegal.